Orientation
Orientation is not a big problem in Budapest. River Danube splits the city in two areas: Buda and Pest. Aside from the very center, the city's structure is quite logical. Landmarks in Buda such as the Royal Castle or Statue of Liberty also help you to find your way. Besides the Danube itself, the best reference points for orienting yourself are the bridges crossing the river.
On foot
Many of Budapest's highlights are easy to approach walking, and in the center you can find more and more pedestrian zones. Due to the lack of bike lanes, cyclists frequently use the pavement, so don't be surprised if your paths cross.
Public transport
You'll find several sightseeing spots within walking distance, but Budapest is a sizable city, so unless you have a car or a bike, you will inevitably use some form of public transportation. The good news is that the urban area is well covered by four metro lines(M1-M4), local bus lines, trams and trolleybuses, and the whole system is easy to understand. In the suburban area you can find your way with the help of the suburban railways (HÉV), denoted H5 to H9.
Public transportation in Budapest is run by
Centre for Budapest Transport (BKK)
, which has a useful English-language site including current schedules,
maps
and
fares
. You can buy
monthly passes
with your home student card (if you are from one of the European Economic Area), your temporary student card from BME, or your ISIC (International Student Identity Card). Vehicles run from around 5 in the morning until midnight. At night you can use the extensive
night bus network
available, or the tram number 6, which runs all day long.
Metro
Budapest's underground network is an excellent way to get around. It connects the suburbs with railway and bus stations, several centrally located hotels, museums and sights. The system consists of four lines, crossing at Deák Ferenc tér station (Deák Ferenc square, in the center of the Pest side), Kálvin tér and Keleti pályaudvar.
Line 1 (M1, yellow line) runs from the city centre to Városliget (City Park) along Andrássy út, passing the Opera and Hősök tere (Heroes' square). It was built to commemorate the 1000th year of Hungarian nationhood in 1896 (thus sometimes called Millennium Subway). It was the first underground built in the continental Europe and second in the world after the one in London. The beautifully rebuilt stations with decorative tiles are gorgeous historical memories of Budapest's richest period (1880-1910).
Line 2 (M2, red line) runs generally in the East-West direction from Örs vezér tere, the biggest transport hub of Eastern Pest to Déli pályaudvar (Southern Railway Station) in central Buda. It also takes you to Széll Kálmán tér (formerly known as Moszkva tér), the biggest transport hub of Buda, Kossuth tér, where the Parliament is located and Keleti pályaudvar (Eastern Railway Station).
Line 3 (M3, blue line) runs in the North-South direction on the Pest side from Újpest-Központ to Kőbánya-Kispest, terminus of bus 200E to the airport. It passes Nyugati Pályaudvar (Western Railway Station) and Corvin-negyed where you can change to tram 6.
Line 4 (M4, green line) runs from Kelenföld to Keleti pályaudvar (Eastern Railway Station). The new line has a station next to our unversity at Szent Gellért tér and it takes you to the opposite side of Danube (Fővám tér) or to Harminckettesek tere (tram 4/6).
Tram
Budapest's 25 tram lines are a tourist-friendly way of getting around. They are slower, but more scenic than the subway and particularly useful on the nearly subway-less Buda side. Be careful about doors, they open on different sides at different stops, and they may not even open if you don't signal your wish to get off.
Tram 4 and 6 both run along Pest's inner ring road (the so-called Nagykörút), providing access to all four metro lines. They cross the Danube on Margit híd (Margaret Bridge), which is a truly beautiful view. Although being technically two lines, 4 and 6 only differ in their last two stops near our university. In 2006 the world's longest trams, the Combinos started their service on lines 4 and 6, their length being 54 m (177 ft).
The two lines running along the Danube river (line 19 in Buda and line 2 in Pest) are considered a part of the cityscape. Both offer beautiful view of the opposite side.
By bus
Budapest has a dense bus network, which also connects the agglomeration and suburban zones with several metro and train stations and the city center. Numbering system is now easy to understand. Numbers below 299 indicate regular bus routes. Numbers with an added 'E' (for example 7E or 200E) indicate express services that don't stop at all stops. Numbers with an added 'A' have shorter routes than their regular counterparts (for example bus 30 has a longer route than 30A). Numbers above 900 indicate night services. (Numbers between 800 and 899 are suburban services provided by Volán company, so BKV tickets and most tourist passes are not valid on them.)
Particularly useful lines for you include:
Bus 7, 107 – they all connect Keleti railway station with Blaha Lujza square (Blaha Lujza tér, junction with tram 4, 6), Pest city center and many important spots in Buda (the northern part of BME among them, at the stop Szent Gellért tér).
Bus 16/16A/116 go to Buda Castle from Széll Kálmán tér or Deák tér.
Bus 200E gives access to Ferihegy Airport from the terminus of Metro 3, Kőbánya-Kispest station.
Trolleybus
Budapest's 13 trolley-bus lines run in Northeast and Central Pest. Unless you are a trolley buff, it's unlikely you'll have to use them frequently. However, some of them pass through the Városliget (City Park) and cross Andrássy avenue (Andrássy út), giving you beautiful views while using this eco-friendly mode of transport. Line 70 runs from Kossuth tér at the Parliament to the City Park, while it also passes through the lively Nagymező utca, the Broadway of Budapest.
Suburban railway
Suburban railway lines, which are called HÉV, connect central Budapest with several suburbs. There are 5 HÉV lines in Budapest, denoted H5 to H9. Note that your passes are valid only within the city boundaries, so if you have a pass, and plan on going out of town you should purchase a supplementary ticket at a ticket office.
Line H5 brings you from Batthyány tér to Szentendre, a friendly little city North to Budapest. It connects at the terminus Batthyány tér with metro 2, and at Margit híd with tram 4/6.
Line H8 takes you to the beautiful royal castle of Gödöllő from the Örs vezér tere station of metro 2.
Night services
In the night you can take tram 6, which runs all night long every 15 minutes, or one of the many night buses. The latter are easily recognizable by their triple-digit numbers, starting with '9'. Buses run every 15-60 minutes from around 11PM until 4AM. The main linking points of the night bus network are Széll Kálmán tér, Astoria and Blaha Lujza tér. Daytime tickets and passes are valid.
Most useful night buses are the following:
907 – Substitutes daylight bus 7.
914, 950 – In the city center substitute metro 3.
You can find information about all the night buses
here
.
On many lines there are ticket inspectors, who (if they do their jobs correctly) will not let you travel without a valid ticket or pass.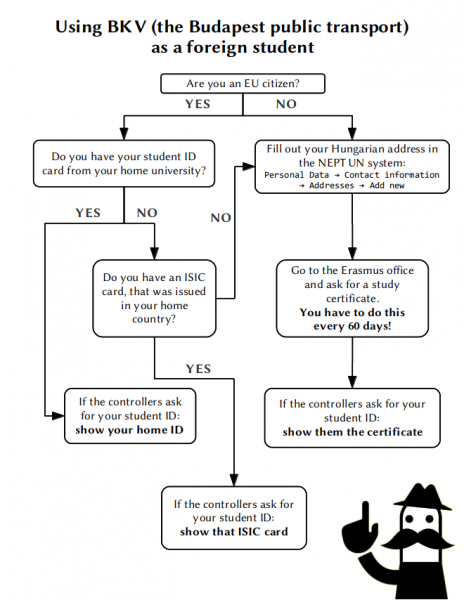 By taxi
Budapest's taxi drivers are not always prepared for English speaking clients, but it does not necessarily mean that they intend to overcharge their foreigner guests – use one of the major taxi companies with English speaking switchboards to avoid problems. You will always get better fares if you order a taxi on the phone than if you just simply get in the first one you see, without having it ordered.