In the BME you will have two possibilities to connect to the WIFI system.
Connect with EDUROAM
Connect to the BME wifi without EDUROAM
1. EDUROAM
If you have in your home University EDUROAM system, you can use your own username and password here in the BME, so you don't need to do anything more.
2. BME WIFI without EDUROAM
Please note that you need to register a course first to do this.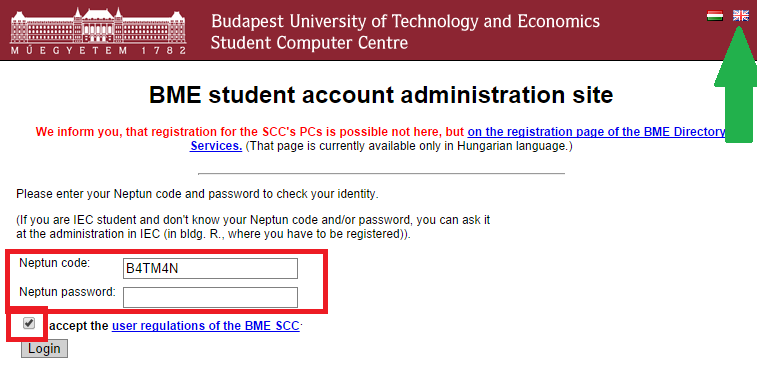 Use your Neptun code and your Neptun password. You should also change yourlanguage. REMEMBER TO TICK THE CHECKBOX AT THE BOTTOM!
Change password
Check the requirements.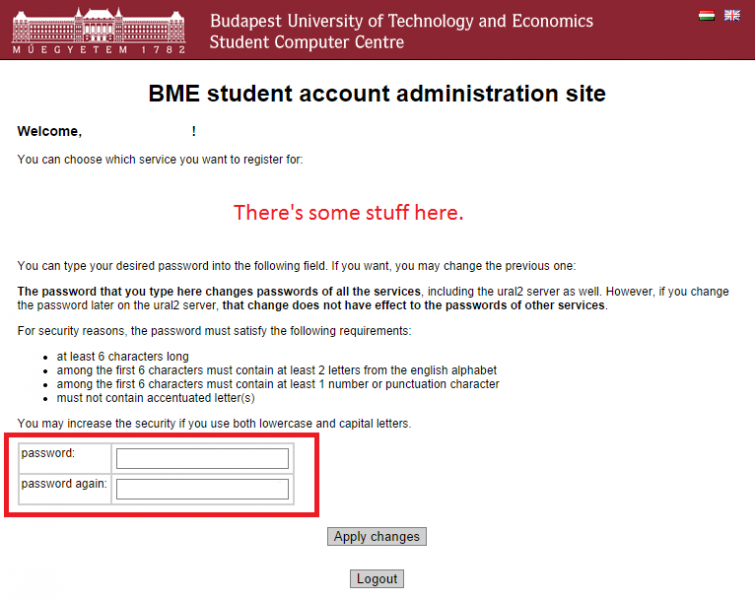 This password is used for VPN and SSH, not WiFi.
Register your devices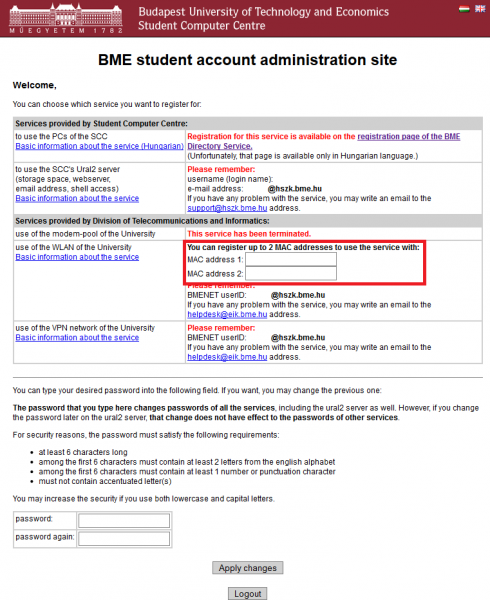 This page might look different, it's only shown until you haven't registered wifi, so we can't get a screenshot. There is a checkbox next to "Services provided by Division of Telecoummunications and Informatics" text, check that, apply the changes (button at the bottom of the page). You should see the stuff in the picture above now.
Find your mac adress
On the previous site you can register two devices to use the BME WIFI (eg.: laptop, mobile, iPhone, tablet, iPad...). For the registration you need the MAC addresses of the devices. The following videos help you to find them:
How to find MAC address in Windows 7.
http://www.youtube.com/watch?v=pFp3h7fNrIQ
How to find MAC address in Macintosh OS
http://www.videojug.com/film/how-to-find-your-ip-and-mac-address-on-an-apple-mac
How to find MAC address in Android devices
http://www.youtube.com/watch?v=mMMm6zT-GdE
How to find MAC address in iPhone or iPad devices
http://www.youtube.com/watch?v=R__XFpVNZvQ
How to find MAC address in Windows Phone
https://www.youtube.com/watch?v=TSJW28leK54
You need to type the MAC address in the following format: XX:XX:XX:XX:XX:XX